Dependable Home HVAC Services
Ron Hammes Refrigeration is a full-service environmental temperature control company offering residential heating, air conditioning, ventilation, and refrigeration services. Our excellent reputation comes from our top-quality products and knowledgeable staff who put your goals first. We offer a full line of Trane home air conditioning systems, home heating equipment, split system home cooling units, and home refrigeration options, and our wide range of choices makes us your one-stop-shop for all your temperature control needs. With the sophisticated machinery and customer-focused service we offer, our motto says it best: "We are the coolest company in La Crosse!"

Fast, Reliable Residential Heating & Cooling Services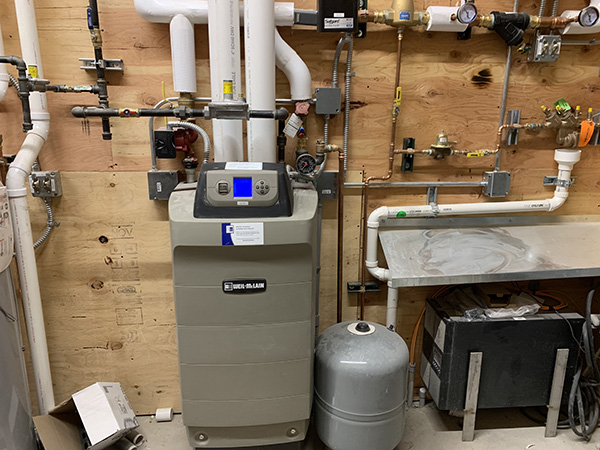 When you work with the home HVAC experts at Ron Hammes Refrigeration, it's easy to maintain the perfect indoor temperature no matter the season. That's because we have partnered up with the best heating and cooling brands on the market for your home - Trane and Weil McLain - to ensure the best results.
As your local dealer for Trane and Weil McLain systems, Ron Hammes Refrigeration can help satisfy all of your home heating and residential cooling needs. From furnaces and heat pumps to air conditioners, central air and thermostats, you can count on our knowledgeable and experienced team to help you create an ideal home environment.

Home Heating & Cooling Repair & Maintenance
Regular air conditioner & furnace service and maintenance is the key to long-lasting equipment - if your system doesn't seem to be keeping up with the thermostat don't wait until a small issue at home becomes a major problem. Through routine preventative maintenance appointments, our team can identify any potential problems and fix them fast at an affordable price. However, if your air conditioning suddenly does go out in the middle of the summer, we have you covered! Our 24-hour service means we can send a technician at any hour of the day or night.
Click here for Service or a Quote!
Residential Heating & Residential Cooling Services in La Crosse, WI
Residential Heating Services:

Furnace Installation
Furnace Service & Maintenance
Gas Furnace Installation
Gas Furnace Service & Maintenance
Heat Pump Installation
Heat Pump Service & Maintenance
Garage Heaters
Boiler Installation
Boiler Service & Maintenance
HVAC Installation & Service
In Floor Heating Systems
Energy Rewards & Tax Credits

Residential Cooling Services:

Air Conditioning Installation
Air Conditioning Service & Maintenance
Central Air Installation
Central Air Service & Maintenance
HVAC Installation & Repair
Energy Rewards & Tax Credits

Water Heater Services:

Water Heater Installation
Water Heater Service & Maintenance
Water Softener Installation
Water Softener Service & Maintenance