Commercial HVAC & Industrial HVAC Installation, Maintenance & Repair
Whatever your commercial or industrial HVAC system needs, this is the place to get the information you want. Do you need temporary cooling? Service parts? Extended warranties? Products to upgrade your equipment room or retrofit your CFC-based equipment? We can help! Give us a call or stop in to learning about our financing alternatives and training.
HVAC Excellence is our standard
The very first air conditioning unit was built in 1902 for a commercial publishing business. More than 100 years later, the expert technicians at Ron Hammes Refrigeration team are keeping offices, commercial buildings & industrial buildings cool during the summer months and warm in the winter.
Our main goals are to protect your heating and air conditioning equipment and to provide a comfortable environment for your employees with reliable HVAC service. The life span of all heating and cooling systems is significantly longer when they receive regular maintenance, so let us help you make your commercial HVAC or industrial HVAC investment last longer.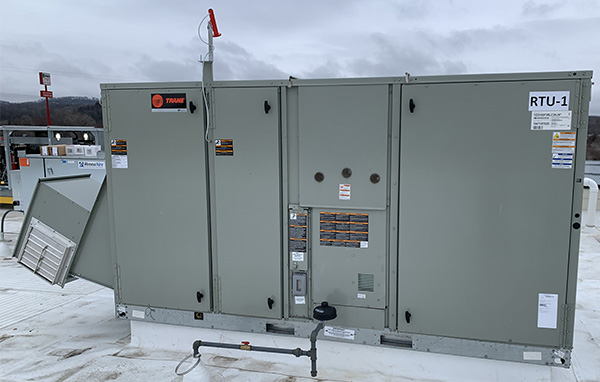 Kitchen equipment specialists
Running a restaurant can be a rewarding business opportunity, and the last thing you want is for a problem with your HVAC system to ruin your bottom line. You need a certified and trained commercial HVAC technician who knows how to keep your heating and cooling systems in perfect working order. That's why you should call on the expert services of Ron Hammes Refrigeration!
In addition to our renowned commercial HVAC services, we also specialize in a wide variety of restaurant kitchen equipment including Captive-Aire hoods.
Commercial & Industrial HVAC 24/7 maintenance and repairs
While your business may have set working hours, HVAC issues can happen at any time. So, if your heat goes out in the middle of the night, you can depend on our HVAC service team to fix it fast. We take a great deal of pride in our professional commercial HVAC & industrial HVAC services, and your complete customer satisfaction is always our number one priority.
Whether your commercial or industrial HVAC system is in need of an upgrade or you just need to schedule routine HVAC maintenance, call the friendly team at Ron Hammes Refrigeration today!
Schedule a free estimate for commercial HVAC services today! (608) 788-3110
Contact Ron Hammes Refrigeration Today!
Commercial HVAC / Industrial HVAC Services in La Crosse, WI
Refrigeration:

Cooler Installation, Repair & Maintenance
Freezer Installation, Repair & Maintenance
Ice Maker Service
Walk In Cooler Install
Walk in Cooler Repair & Maintenance
Refrigerator Service & Maintenance
HVAC Installation & Service
Energy Rewards & Tax Credits

Heating & Cooling:

Air Conditioning Installation
Air Conditioning Service & Maintenance
HVAC Installation
HVAC Repair & Maintenance
Office HVAC
Commercial HVAC
Industrial HVAC
Healthcare HVAC
Energy Rewards & Tax Credits

Kitchen Services:

Kitchen Equipment Sales, Install & Service
Kitchen Ventilation Systems