Other than their connection to our basic necessities, grocery stores, restaurants, laboratories, and hospitals all have something in common — commercial refrigeration. Because it's such an important feature in many different industries, any problem — no matter how minute — must be dealt with promptly. According to Ron Hammes Refrigeration in La Crosse, WI, there are a few solutions that tend to cover a multitude of common issues.
Top 3 Commercial Refrigeration Troubleshooting Tips
1. Keep It Clean
In addition to the important issue of sanitation, keeping your commercial refrigeration unit free of dust, dirt, and debris improves its overall functionality. For example, if the coils or kickplate grille are covered in dust, efficiency is drastically decreased; your unit may freeze up or simply fail to maintain the correct temperature.
2. Use as Directed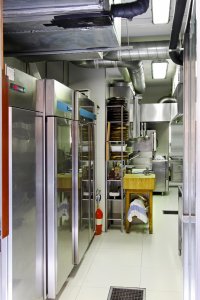 Problems like intermittent power are usually the result of incorrect usage. Correct usage includes appropriate storage as well as connecting it to the right power source. Commercial refrigerators should always be plugged in directly; extension cords often cause power failure. Furthermore, many manufacturers will void the warranty if the damage was sustained while using an extension cord.
3. Schedule Routine Maintenance
Regular inspections by your staff, as well as professional commercial refrigeration technicians, prevents problems like the aforementioned as well as minor issues like flickering lights and faulty doors. Instructions for replacing a malfunctioning or burnt out bulb should be laid out in the unit's manual. As for faulty doors, the problem usually lies with the gaskets, although the hinges and latches may also need to be replaced.
If simple troubleshooting isn't enough and you need extensive commercial refrigeration repairs, contact Ron Hammes Refrigeration. In addition to commercial refrigeration services, they also offer HVAC repairs, HVAC maintenance & HVAC installations. For more information on the services they offer, call them at (608) 788-3110 or visit their website today. You can also connect with the company on their Facebook page.