A Few Reasons on the Importance of Changing Air Filters
Of the many household maintenance tasks that require your time and attention, changing the air filter on your air conditioner probably doesn't take the top spot on your to-do list. But changing your air filter on a regular basis provides several key benefits to your family; both for YOUR health, and the health of your HVAC system.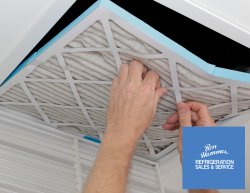 The following are some of the top reasons to change your air filter on a regular basis:
Lower Utility Bills: When your air filter gets clogged, your air conditioner is forced to work harder to cool your home. This naturally increases your family's electricity use and can significantly raise your energy bills. Simply cleaning or replacing your air filters can help reduce your electricity bills by 15%.
Avoid Repairs: An air conditioner that is being forced to work harder doesn't just drive up your utility costs — it can also lead to costly damage. The additional strain on the fan motor can cause a wide range of issues, including overheating. These problems could ultimately require you to buy a completely new air conditioning system — demonstrating once again how changing your air filters helps your family save money.
Better Air Quality: As dust and other contaminants collect in your air filter, these particles are more likely to be circulated throughout the house. Poor air quality can be particularly problematic for individuals suffering from asthma or allergies, and in some cases, the accumulation of dust and bacteria could require a more costly, in-depth cleaning of your heating and cooling system to resolve the issue.
No matter what type of air conditioner assistance you need, the team at Ron Hammes Refrigeration will help your family stay comfortable all year long. Contact us or for an estimate, on service & repair, give us a call at (608) 788-3110 or online here: Contact Us