With fall, the weather is starting to cool down in many parts of the country — meaning your HVAC system is probably getting a much-needed break from the summer heat. Instead of leaving your air conditioner to gather dust until the end of spring, consider doing an upgrade this fall. Ron Hammes Refrigeration, a reputable HVAC repair and installation company in La Crosse, WI, is here to explain why autumn is the best time for HVAC replacement.
Avoid The Summer Rush
It's more common than you might think. Everyone puts off replacing their worn-down HVAC system, leaving it barely hanging on in autumn before summer comes back around and, unsurprisingly, the system won't start back up. Now you're in a rush to find a reliable HVAC company during the busiest season. The odds are likely that you will have a day or two of uncomfortable heat before you can fit an HVAC appointment into your schedule.
Pick Out Exactly What You Want
The fall season gives you much more flexibility for researching the best HVAC options out there. Since you won't be scrambling to get it done in a hurry, you can take your time finding the right system at the right price.
Keep More Money In Your Pocket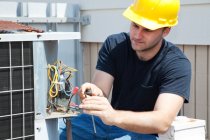 The fact that fall isn't as busy as spring or summer works to your advantage. Many HVAC contractors will offer specials or discounted rates on air conditioner installation or repair during the autumn season. If you know your system will need to be replaced next summer anyway, why not take advantage of lower rates in the fall?
Get Ready For Winter
Many HVAC systems re-purpose the air conditioner as a heat pump during the winter. And if your air conditioner wasn't operating at peak performance during the summer, it will likely impact your heating bill as well. An HVAC contractor can do a quick assessment of your system to see if the heat pump might be negatively impacting your heating bill.
Take Advantage Of Energy Savings Early
Instead of running your air conditioner on its last leg for the first few months of summer, install an energy-efficient system now. A system that's already in need of HVAC repair will undoubtedly be using much more energy than a new, high-efficiency system.
Not sure if your HVAC system needs to be replaced? Contact Ron Hammes Refrigeration at (608) 788-3110 for a free estimate to see if an HVAC system upgrade is a smart choice for your home. To learn more about their services, visit their website. You can also find the company on Facebook.